Christmas Haystack Treats
This recipe was developed many years ago by Evelyn Gilbert who made it originally with Macintosh toffee bars. When Nestle developed this pre made caramels, it soon became the candy maker and bakers choice because it was so easy to use and much better tasting! Look for the recipe in our blog.
These are our family favorite especially at Christmas but all year around for special occasion.
Peters Caramel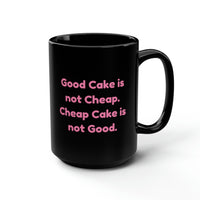 Good Cake is not Cheap. Cheap Cake is not Good.
Looking for the perfect gift for the cake decorator in your life. This is the perfect mug for them.
Gift Mugs
Time to Top Your Cake with Some thing Special. Check out our new Cake Toppers
Browse Though all our Wilton Products
Shopping and Shipping
In-Store Shopping
We will be resuming in-store shopping on May 19, 2020. We would request you wear a mask in our store, sanitize your hands at the door and follow the rules of social distancing. Please also follow the arrows in the isles to facilitate the flow of traffic.
Shipping
When you get to the checkout click the dropdown beside the word delivery to choose your shipping option.
For Local PIckup
If you live in Edmonton or surrounding area and want to pick up your order in person, click the dropdown beside the word delivery and choose Local Pickup. Please wait until you get a email saying your pickup is ready. This is a free service.
We will continue phone orders or online Curbside Pick Up Orders that can be made before 4:00pm and can be picked up the same day. Curbside orders are picked up at the back door after you receive the email letting you know its ready. Phone 466-3174 when you arrive.

Call 780-466-3174 to place an order or use this site to order online.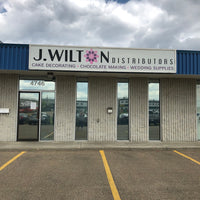 Welcome to our Online Store! We are so happy you have found us! Press any square below to see the category of our catalog listed on the square. For more categories press on catalogue at the top of the page.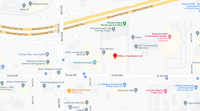 Our Location
J. Wilton Location
4746-76 Ave NW
Edmonton, Canada
Mon - Fri, 9am - 5:00pm
Saturday, 10:30am - 2pm
Sunday, Closed
Testimonials
Best place for good prices, high quality baking supplies

Sara Davies
There's no other place in Edmonton that even comes close to the variety of baking supplies that they have here. The owner and staff are super nice and helpful. I have seen an improvement on their prices and hours too.

C Chong
I love this place! Sue who is the owner, is very nice💕 I've been buying from Wilton's a very long time, I get 50% off of every item🍬 It's my go to place for 🌞chocolates🍫🍫molds, and just about everything else🍰💙 It's a bit of a drive from St Albert, but all worth it for me🍭💛🌷

Cindy Dato
Please let us know about your experience

Author's name